Where to from here...
With 39 games left in a season that's effectively over, finding the right path now isn't as easy as it seems.
Here's the problem with writing the obituary for a team after only the midway point of a season, as I did on Friday:
Where the hell do you go from here?
In a way, we got our answer Saturday night, and the irony for Knick fans cut deep:
For the first time all year, New York had an all-vet starting lineup, filled with not a single player on a rookie deal. Counting Kadeem Allen and Kenny Wooten, the Knicks have nine first, second or third-year players on their roster. Four of them played on Saturday, and none to begin the game.
This isn't typically the way the end of lost seasons go, as many people were quick to point out after, during and even before the game started. I chimed in afterwards, and was called out by someone who gets a lot of shit but whose opinion I respect a great deal:
Here's the thing: Berman isn't wrong. Not completely, at least.
Right now, some of the young players available to the Knicks probably don't give them as good a chance at winning as most of the vets do. After the best 10-game shooting stretch of his career, Frank Ntilikina is 3-for-15 since returning from injury. Mitchell Robinson is still the most impactful defender the Knicks have, but he's a little out of it right now, and might be playing hurt. Kevin Knox's struggles have been well-documented. Allonzo Trier has been out of the rotation all year for a reason.
Why does this matter? Simple: The goal of any NBA season is to avoid playing meaningless games. Falling deep enough in the standings is only the first step; trotting out lineups that have no chance of being competitive is when the other shoe unofficially drops.
The Knicks' summer spending spree at the $0.99 store was partially made in an effort to avoid this fate for as long as possible. I've said it many times: playing in games that you feel you have no chance of winning is not the way to develop young players.
From that perspective, you can see the thinking behind Saturday's starting five. And hey, they put forth one of the Knicks' better defensive efforts of the season, two days after submitting what might have been their worst. There should be some theoretical value in that.
And maybe there is. Maybe the young players were inspired by holding a team to 90 points after giving up an average of 124.1 over their previous eight games. Maybe they got a boost by seeing the older guys play hard in a game of no real consequence. Maybe the roar of the Garden was a refresher they desperatey needed.
But playing in competitive games was only supposed to be half of the equation. The other half - and arguably the far more important half - was making sure the young players were a significant part of that goal. The vets they signed were supposed to help, not hinder, that effort, whether by spacing the floor, reliably defending a given assignment, setting a proper screen, or any other of dozens of "little" things that don't show up on a box score.
This is where things stop adding up. Kevin Knox and Mitchell Robinson played 36 minutes on Saturday and combined for seven shot attempts. There is no universe where this is either beneficial or acceptable.
Frank Ntilikina, meanwhile, took more shots than the two of them combined and didn't have a single assist. Perhaps this is what happens when you drill it into a guy's head for 2.5 years that shooting = good and passing = bad. That notion is only reinforced by watching the players on this team who continue to be rewarded with minutes and take questionable shot after questionable shot.
And I should be clear here: this isn't on Mike Miller, who I believe has been given a mandate to win as many games as possible. Saturday's lineup decisions probably did give them the best shot.
But how many times can we watch Julius Randle and Bobby Portis defend the paint as if jumping is prohibited by NBA bylaws? Mitchell Robinson had three blocks in 24 minutes and was the only player to show Ben Simmons even a modicum of resistance: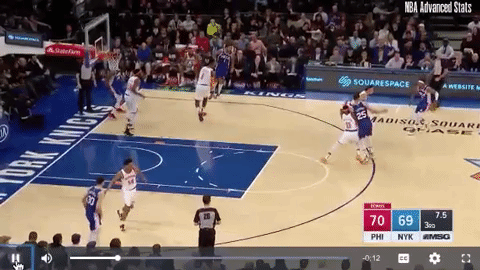 Kudos to Frank as well for giving Mitch a chance to make that play.
By the way, did you know that lineups featuring Robinson, Ntilikina and Damyean Dotson are giving up only 103.8 points per 100 possessions according to Cleaning the Glass, a figure that would be second in the NBA? They also haven't been able to score worth a damn (101.1 offensive rating) which explains why that trio has only been on the court together for 185 possessions.
But isn't that what this season was supposed to accomplish? Figuring out a way for three players who clearly prioritize defense to be able to share the court and have those minutes be conducive to winning?
Do you know how many minutes Mitch, Frank and Dot have played with Marcus Morris (someone who spaces the floor and plays defense) but without Julius Randle or Bobby Portis (occasional ball hogs who make Enes Kanter look like Manute Bol)?
That would be three. Three minutes. Total. For the whole year.
That's what's so frustrating. There are players already here who can amplify the talents of the young players on the roster - Marcus Morris chief among them, but also Taj Gibson, Reggie Bullock, and yes, Wayne Ellington (even though he's apparently forgotten how to make shots) simply because of his off-ball movement that is both willing and constant.
A guy like Randle, meanwhile….well, there's a reason I compared him to Ryan Fitzpatrick on today's podcast. He'll beat the Pats once in a blue moon, but is he taking you any closer to where you eventually want to be as an organization? Maybe on a team that was further along, where he's but one cog in an already functional machine, but here? Now?
Randle remains the team's engine, and everyone else functions based off of his performance. It's not his fault that it hasn't gone well; he's simply been miscast, and his warts are amplified that much more as a result. Ditto for Elfrid Payton (can we raise a hand when guarding the arc, perhaps? And maybe not die on every screen?) and Bobby Portis (keep shootin', big guy).
Maybe there is a world where these guys can help the young players get closer to their ultimate goal, but that doesn't seem to be the world we currently inhabit. It was fine to center things around them at the beginning of the year, but at 11-32, really…what are we doing here, folks?
I doubt Randle or Elf gets moved before the deadline, so more than likely, this all amounts to screaming at clouds. But if there's a way to strike a better balance than the one we saw on Saturday, it would be much appreciated.
17 days till the deadline.
Fingers crossed.
---
Player Spotlight
The Knicks play their usual MLK Day game at 5pm today, against one of the few teams they probably should beat, the Cleveland Cavaliers.
The Cavs are bad, and like the Knicks, their young players haven't exactly lit the world on fire. That said, they do have a guy who a lot of Knick fans were hoping for last year and is finally starting to put up numbers commensurate with his draft pedigree.
Collin Sexton hasn't been leading Cleveland to wins, but he is putting the ball in the hoop. Over his last 10 games, Sexton is averaging 22.5 points and is hitting 43 percent from downtown (he's at 19.2 points and 34 percent for the year):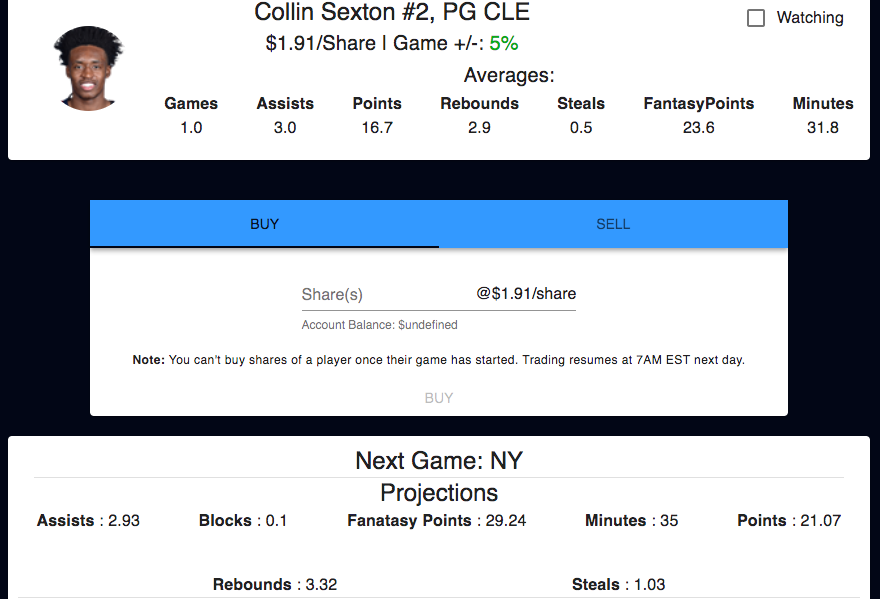 Sexton comes into today's matchup having scored 25 or more in three straight games, and is 11 for his last 20 from downtown. He'll have Elfrid Payton guarding him for most of today's game. You do the math.
The price is right at just $1.91 a share, especially with a projection of under 30 fantasy points for today's matchup. If this is your first foray into the PredictionStrike waters, click here and use code KFS for $10 added to your first investment of $10 or more (so $10 can get you 10 shares of Sexton with some cash to spare!)
With the veteran lineups we're likely to see for a few more weeks at least, it'll make the games a heck of a lot more palatable.
---
Podcast Alert!
Jeremy and I shoveled dirt over the grave that is this Knicks' season. That might sound really depressing, but really…
Who the hell am I kidding, it was pretty depressing. But misery loves company. Give a listen.
---
News & Notes
Mike Vorkunov just released an awesome trade deadline primer (I'll be doing my own soon). Give a read if you's an Athletic subscriber. If not, feel free to use promo code OVERTIME to get 40% off a yearly subscription. Trust me, it's worth it,
---
That's it! See everyone tomorrow morning.