Free Agent Frenzy, Part 1
Part 1 of my look at using free agency to modernize the Knicks this summer. Plus, the latest about what I'm hearing on the Chris Paul front.
News & Notes
Light news day. According to the Athletic's Mike Vorkunov, the Knicks made a hire yesterday, tabbing Chris Santo to join their video room. He comes with some acclaim.
That's it.
Listen Up!
As promised, here is this weekend's KFS Pod. Sorry it wasn't up in the morning. I blame Skynet.
Oops…
In my Giannis trade column yesterday, I accidentally neglected to include the team who he's arguably most likely to be playing for in a year, the Miami Heat (I blame my subconscious for not being able to deal with this possible eventuality). In any case, I would have placed them in the "The best offer we'd be willing to make isn't good enough" category because I don't think there's a chance they put Bam on the table.
So no harm, no foul, I suppose.
Tweet of the Day
For if you need a laugh. (or a reminder to wear a mask)
"Sources Say…"
Before we get to today's tidbit, a quick word…
If Twitter is any indication (and really, when isn't Twitter a perfectly accurate representation of the general consensus), yesterday's Giannis column angered some folks.
As it perhaps should have. The Knicks are as far away from contention as any team in the league. If there's any organization who should ignore a possible sweepstakes for the league's nominal best player, given his impending free agency and what they'd have to give up to get him, you could argue it's New York. So no, I don't blame anyone for being mad that I brought it up.
At the same time, there is a tendency to royally overthink this stuff. The best way to not be a shitty team any more is to be…not shitty, or "good," which is a word I've heard used to describe professional sports franchises from time to time.
This dichotomy is why the people who swear that "The Knicks would be fools for going after [insert name of player far better than anyone on the roster here]" always sound a bit silly to me. This isn't to say every win-now move is a smart one; obviously this isn't the case, and there is a cost/benefit analysis to every transaction. But to act like becoming a significantly better basketball team isn't an end unto itself seems a bit, I don't know…presumptuous?
The complexities of this conversation are why I was so noncommittal in taking a position on the Chris Paul thing last week, and why I will remain so until the conversation about it dies out.
Well, I might be straddling that fence for a while. According to multiple sources familiar with the Knicks thinking, New York is readying initial offers to potentially bring the Point God to the Mecca. Julius Randle and Kevin Knox are two names I'm hearing are involved in internal discussions. I'm also told that Paul's preference will play into his eventual destination, and his connection with Leon Rose is a factor.
A couple things:
I'm not the first person to report something to this effect, as Scoop Robinson had the Knicks preparing an offer for Paul last Thursday. Kudos to him for being first on this.

This doesn't mean the Knicks are going to overpay, and if the bidding gets nuts, my sense is that Paul will not be a Knick next season. If I had to guess - and this is just my guess - I'd put the chances of this happening at under 50 percent.

Your definition of overpay might be "anything that doesn't involve picks coming back New York's way," in which case I've misspoken. So let me be clearer: the Knicks are not going to mortgage something they consider to be vital to their future (i.e., RJ, Mitch, the 8th pick, a future unprotected pick) for Paul. But a lesser pick and another young player? Don't count it out.

It's still very early and no official discussions have yet been had, at least not to my knowledge. Paul could decide tomorrow that he wants desperately to play for a championship next season, in which case this isn't a thing that's going to happen. My sense is that this process will play out over a number of weeks, if not months.

But thus far at least, he seems open to the idea of calling MSG home.
That's all I got. More to come as I hear.
---
Free Agent Frenzy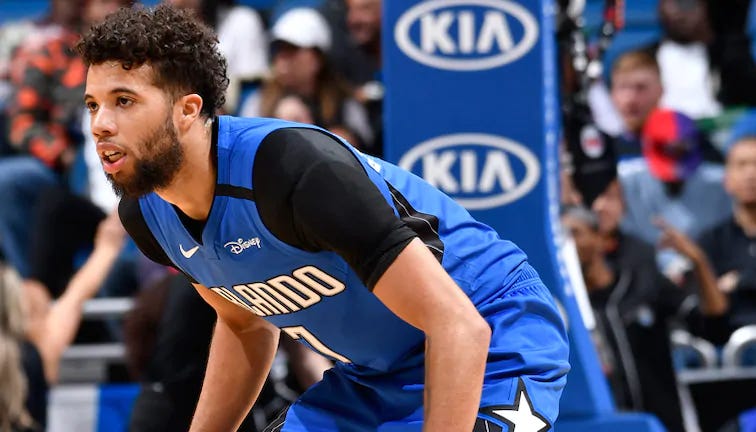 If you've been keeping up with the newsletter for the last few weeks (and how dare you if you haven't), you've noticed some running themes. Whenever I've discussed who the Knicks should be looking to acquire as they fill in what I expect to be anywhere from four to six roster spots by the time free agency begins, I keep coming back to a few skill sets.
In no particular order, the player types I think they should be targeting (some of which will be obvious):
Shooting (duh)

Ball movement (double duh)

Positional versatility (which I define as either ball handlers who provide off ball value, wings who can play the four, or switchable bigs)
…and a partridge and a pear tree.
Seriously, could I get any more greedy?
Here's the thing though: if we accept the fact that the Knicks are probably not going to end up with any players who espouse all three of these qualities, we should at least be able to set our sights on guys who check two out of the three boxes. If, for argument's sake, the roster was composed entirely of players who do a couple of these things well, then you could mix and match to fill in the blanks.
This was certainly a challenge for New York last summer, as the only player they signed who could even arguably check multiple boxes was Marcus Morris (although in our Bizarro World lineups, he almost always played with two other bigs. That was a real thing that happened.)
Luckily, while the market may be short on stars, it's heavy on guys who can grant me my wish. Today and tomorrow, I'm going to highlight 10 players (five each day) who New York should target with my three boxes in mind. I want to be very clear here: These aren't who I think are the ten best free agents available, but merely guys who would give New York a heavy dose of some of what ails them.
(Needless to say, Fred VanVleet tops this list, but I've already done a deep dive on him and won't write about him again. I'm also staying away from the other obvious guys who are atop many a Knick fan's free agent wish list - Bertans, Joe Harris, & Christian Wood - as well as D.J. Augustin, who I've written about before and I think is a safe bet to end up here next season. Finally, the only RFA's I'll include are ones I think NY could actually pry away)
Let's get to it.
Honorable Mentions
DeMar DeRozan (31 years old - $27.8 million player option)
There is perhaps no player in the league that seems like a worse fit on the current Knicks roster from the outside looking in, but this is where it's important to remind ourselves that the last Knicks roster we saw may be very different from the next one.
Sans Randle and with several shooting additions, DeRozan actually makes a lot of sense. His playmaking has come a long way since he entered the league (he's averaged over five dimes per game in each of the last three seasons) and he showed in the bubble that he's more than capable of sliding down to the four. Also, unlike a lot of the guys on this list, DeRozan can create his own shot if he needs to, which would make everyone's life a bit easier.
If I thought he could be had on something like a three-year, $48 million deal that declined each season, perhaps with the third year only partially guaranteed and a guarantee date that came after the start of free agency (I know, I'm being greedy again), he'd be much higher on this list, but I don't think that's in the cards. He knows someone will pay him at least $10 million annually over multiple seasons next summer, so there's no incentive for him to opt out to sign my ideal contract.
Marco Belinelli (34 - unrestricted)
I wouldn't mind seeing him on a one-year contract at something close to the vet minimum, not to be a regular part of the rotation, but just to have around He's familiar with Thibs, can shoot, and can play the four.
Serge Ibaka (31 - unrestricted)
Would love him on a one-year deal to essentially be Mitchell Robinson's backup (maybe he's a starter emeritus at the four and quickly gets pulled) and teach Mitch a thing or two, but I just don't think he's ready for that kind of reduced role at this point in his career, not for a rebuilding team at least.
10. JaMychal Green (30 - $4.8 million player option)
He might just opt in with all the financial uncertainty, but I'd kick the tires if he freed up, possibly with a multi-year deal. He's become a big part of LA's playoff rotation, can play the five if needed and is a career 37.4 shooter from distance.
More than anything though, he's one of the few players I think they can get who is a) really solid on both ends, b) won't cost a ton and c) you can toe the line between playing him enough minutes and giving him enough usage such that he helps you become a competent team but also not so much that he takes the attention away from the kids you want to develop.
9. Aron Baynes (33 - unrestricted)
Matthew Miranda and Drew Steele already did a really good free agency breakdown of Baynes for the Strickland, so if you're super interested in him as a player, I'd recommend checking that out. In short, he makes a ton of sense for this team on several levels: he can shoot, he's a good defender who will survive on switches, and most of all, he's tough as all hell (and not in a fugazi "dawgs" way either).
My conflict, and why he's somewhat low here, is that I think there's real value in Taj Gibson being the primary backup five on this team. I know the notion of Thibs keeping his old players around has gotten a bad rap, but I have a funny feeling that the way he runs things is going to be a shock to the system for some of these guys. Having a vet there who can help them understand what lies ahead in the bigger picture, IMO, will be vital.
I also don't think Taj is ready to enter the "keep gettin 'dem checks" portion of his career; he's good enough to still play minutes.
8. Jae Crowder (30 - unrestricted)
His shooting has been light's out since he arrived in Miami - 44.5 percent from deep in the regular season since joining the Heat, and 40 percent in the playoffs on over eight (!) attempts per game. It's enough that some decent or better team is almost certainly going to offer him multiple guaranteed years at a nice number. As a player who is accustomed to playoff basketball, he'll probably take it.
But boy, I'd sure pick up the phone and make a call to be sure. We heard all about dawgs last offseason, which clearly was a bunch of nonsense. Crowder walks the walk.
Every player higher on this list is someone I'd not only feel comfortable giving multiple years to at the right price, but also someone I'm guessing would want the security of deal that lasts more than one season. Assuming Crowder's teammate Goran Dragic is not willing to take a one-year balloon payment to come to New York, I think Crowder might be the top realistic guy I'd target for the one year overpay.
Yes, that means more that Gallo. Thinking about the attitude, defense, versatility and ball movement he'd bring to the Knicks roster is enticing, and would make up for the likelihood that his shooting reverts back from the molten hot lava levels it's been in Miami to the 33 percent for his career prior to joining the Heat.
In the end, opponents having to guard him on the perimeter (a level of respect I believe he's earned) will be more than enough, at least for this team's purposes next season.
7. Langston Galloway (28 - unrestricted)
How's this for batshit: what if Langston Galloway was New York's starting shooting guard next season, in between RJ Barrett at the three and Rookie Point Guard X at the one?
Let's start with shooting. After struggling over the early part of his career, Galloway finally managed to get his 3-point accuracy up to 40 percent last season, and his effective field goal percentage was in the top 20th percentile league-wide. He's also someone you can easily play across three positions (he spent a decent amount of time guarding Kevin Knox when New York played Detroit in February) and having him at point guard for short stretches alongside Barrett would work fine.
The biggest issue with Galloway is probably his defense, where he's like a teenage boy in the back seat of a car for the first time: his head's on a swivel and he's trying his best, but he's not particularly good at any of it. He doesn't often get skinny on screens, and while he by no means a space cadet, his off-ball awareness can leave a bit to be desired.
But he's also not a tire fire. In that February game, he spent a lot of time chasing around Wayne Ellington - never a fun task - and although he got burned a few times, mostly held his own:
His size is always going to limit him (he's listed in different places as either 6'1" or 6'2"), and being caught between positions is the biggest reason he's never caught on long term with a team.
I'd still take him though, maybe even for multiple years at the right price. He's a good player who New York should have never let leave in the first place.
6. Michael Carter-Williams (28 - unrestricted)
Here's the dirty little secret about MCW in Orlando this season: they didn't really play him at point guard.
Carter-Williams played 833 minutes last year. Of those, 409 were with D.J. Augustin, 163 were with Markelle Fultz, and only 261 were as the sole ball handler on the court (and Evan Fournier, who can handle playmaking duties, was on the floor for some of those 261).
But guess what? He wasn't bad when he was the only guy! The Magic scored 110.9 points per 100 possessions when MCW ran the offense. Even better, about three quarters of that time was with Nikola Vucevic on the court, and the offensive rating went up to 113.7.
It's worth noting here that the former Rookie of the Year spent all of last season coming off the bench, so he was leading the Magic offense against lesser defenders in many of these situations. That shouldn't discredit what he accomplished, although Orlando probably knew what it was doing.
I went back and watched all of Carter-Williams' dimes from last season, and most came off simple reads and in transition. He has good timing on BLOB plays and decent enough touch on lobs, but advanced reads are just not his thing.
Still, he had some nice moments, many of which came by finding the trailer on a drive into the paint, like he does here with Aaron Gordon:
I'm fairly bullish on the versatility MCW can add to the Knicks. If they draft a point guard and give DSJ a real shot to get time, I could see both Carter-Williams and Frank running caddie car alongside the nominal point guards.
Those lineups would likely be at a significant shooting deficit, but as I've mentioned a lot lately, they have immense flexibility in crafting this roster, and bringing in more shooting seems to be their number one priority.
They'll need to if they sign Carter-Williams, because although he's a better shooter than Payton, the 22 threes he made last year aren't scaring anyone. But Orlando has also scored at a much higher rate when he's been on the court in each of the last two seasons, so clearly he's able to add something to the units he plays with, and I'd be down to find out what he can bring to the Knicks.
Coming tomorrow, my top five free agents to help the Knicks become a modern NBA team!
That's it for today! See everyone tomorrow with Part 2. #BlackLivesMatter