Free Agent Frenzy, Part 2
My top five free agent targets who can help make the Knicks a modern team, plus reaction to last night's Clippers game and RJ maybe getting snubbed.
News & Notes
And that's why you play the games.

The Clippers collapsed last night in every way possible, not only allowing the Nuggets to come back from 3-1 down to win the series, but for the third game in a row, LA squandered a double digit lead en route to a decisive loss.

The last time I remember watching a series get to a deciding game and still being so utterly shocked that a given outcome was in the process of happening was in 2004 with the Lakers falling to Detroit. Even as the Pistons were dominating, I couldn't fathom Shaq and Kobe losing, to a rag tag bunch no less, under a year after Malone and Payton came to LA. I had the same feeling yesterday as the lead grew and the clock dwindled. A reminder: chips aren't granted in July.

It was also a reminder that the NBA's power structure is as stable as a house of cards. Over the last decade, we've already seen the shelf life on super teams decrease from six seasons (Boston) to four (Miami) to three (Golden State), and now the Clippers - the closest approximation the league had to a powerhouse entering October - are already going to be facing questions about the future of their Kawhi/PG core.

Leonard and George join Giannis, Harden, AD, and yes, LeBron, as nominal top ten players who can hit the market in the next two seasons. When you throw in the inevitable trade demand or two that happens annually, it's safe to say that the way things look right now will be very different come opening night 2022 (when RJ Barrett will still be on a rookie contract, btw).

Speaking of Barrett, the Duke rookie got some extra motivation for next season when he was left off both of the NBA's All Rookie teams, finishing 11th in the voting with 61 points, within shouting distance of Washington's Rui Hachimura's 74 but ultimately not close enough.

I'll have more on this below.

There was another game last night, a much better one in fact, between the Celtics and Heat, with Miami winning on a Bam Adebayo block that, well…

He's really good.

Also, shame on me for ever bringing up the notion of trading Mitchell Robinson. Rim protection still matters. It won the Heat a game last night, it would have helped the Clippers beat the Nuggets, and it's probably going to help lead the Lakers to a title. Mea culpa.
Tweet of the Night
That feeling when you finally break down and drop a few years' worth of car payments on a ring, and then she comes home smelling of someone else's cologne…
Tweets of the Night, Portland Trail Blazers edition
Ask Macri
No single tweet to cite, because I got too many variations of "How are you OK with RJ Barrett getting left off the All-Rookie teams!?!?!" to count.
Look, I get it. He finished near the top of the league in a bunch of counting stat categories. As I cited last month, RJ also became just the fourth teenager ever to average at least 14 points, five rebounds and 2.5 assists per game during his rookie year, joining LeBron, Melo & Luka. He brought his lunch pail day after day, and even if he may have spilled some coffee and dropped a few chips on his way to the construction site, he put in many a long, hard day of work. That should matter.
And that's the argument for why he got screwed. Was Terrence Davis a rotation piece for the team with the third best record in the NBA? Yes. Would RJ Barrett have been as helpful to Toronto's efforts this season? No. Should the fact that Davis had an effective field goal percentage that was more than a hundred points higher than Barrett be taken into consideration? Absolutely.
But how much should all of that be factored in with RJ playing 500 more minutes and averaging twice as many points on a team that was as ill-constructed as any in recent NBA memory? I don't know.
There's arguments like this to be made with Rui and P.J. Washington and Coby White as well. But that's all they are: arguments. This wasn't a screw job; it was a situation where reasonable minds could differ. And reasonable minds looked at the guy who had the second worst effective field goal percentage of nearly 150 NBA players who played at least 1500 minutes and they held that against him.
(although at least he's in illustrious company; Carmelo Anthony was third worst).
Dems' the breaks.
---
Free Agent Frenzy, Part 2
ICYMI, yesterday I had part one of my top ten free agents who could bring some combination of shooting, playmaking and versatility to the Knicks in an effort to make them a more modern basketball team. Below are my top five.
(and as a reminder, I don't think these are a five best guys, but the five best fits in terms of upside, cost, need, etc, so as I explained yesterday, you won't be seeing Fred VanVleet or a few other names you might expect to find)
5. Denzel Valentine (26 - restricted free agent, Chicago)
I know what you're thinking…
Macri, why do you have such an undying obsession with bad basketball players? Please seek help and stop wasting my f——- time.
One day I'm going to pitch a player so bad that it'll essentially serve as me hosting my own intervention. I'll be in the middle of looking at some film and just break down in tears. Be ready for the apology newsletter when I do.
But that day is not today, friends. No, Denzel Valentine isn't good. But he's interesting, or at least the outline of him is as interesting as it was when he was coming off winning the AP National Player of the Year award as a senior for Michigan State.
Since then, he's had an underwhelming rookie season, put up a respectable 10, 5 & 3 stat line while hitting 38.6 of his 4.8 threes per game in his second year, missed his entire third season with a mysterious ankle injury, and then spent last season in Jim Boylan's doghouse for reasons no one seems to understand (sound familiar? #FreeDot).
There are two selling point for me here:
Those 3-point shooting numbers two years ago. It backs up what we saw over his college career, when he was a 40 percent shooter from downtown, including 44.4 percent his senior season.

The playmaking.
Check this out:
There's some good and some bad here. The bad is that Valentine was a little too trigger happy from deep last year, attempting over 10 triples per 36 minutes, several of which were not ideal. Were these the reason he often found himself out of the rotation, or was he firing away because of Boylan's nonsense? Who knows.
Either way, what happens immediately after is a normal occurrence for Valentine, who has a propensity to make quick, pinpoint passes before the defense can react.
Valentine doesn't have what it takes to be a full time point guard, but as his nearly eight assists per game as a senior at MSU showed, he has legit vision and passing ability. He's also comfortable bringing up the ball and initiating the offense, and has particularly nice touch on lobs, which would obviously come in handy in New York:
Valentine is restricted, but given how things have gone in Chicago, it's easy to see both parties being ready to part ways. One would think Thibs and the recently hired Andy Greer and Dice Yoshimoto still have some friendly contacts in Chicago who can tell them whether there's more going on with Valentine than meets the eye or whether he might just need a change of scenery.
4. Austin Rivers (28 - $2.2 million player option)
A few things…
It's kind of nuts to me that Austin Rivers is only 28, because it feels like he's been around forever.

Even if I didn't already have him on this list, he would have made it after Saturday night, purely because of this:
If you take away his 2018-19 season, where he started in a crappy situation in Washington and then had to adjust to Houston's crazy offense midway through the year, he's been a 37 percent 3-point shooter since 2016.
With the Rockets, Rivers always had to be on his toes, making quick decisions, driving constantly, and being ready to fire away. If the Knicks want to give RJ more ball handling responsibility this season and don't wind up taking a point guard with the 8th pick, they could do worse than to start a Rivers/Barrett backcourt (or the Rivers/Frank/Barrett trio, although they'd need fairly elite shooting at the four to make that work). Defensively, he's a gamer.
3. Josh Jackson (23 - unrestricted)
He's only a year older than a bunch of guys who are going to get drafted this November, including Obi Toppin. If we put aside the disaster that was his time in Phoenix, and went purely off his 22-game stint in Memphis (not fair, but just go with it for a moment), this is a guy Knicks fans would be clamoring for:
51.3 effective field goal percentage

Elite finishing around the rim (71 percent; 90th percentile league-wide), and over a third of his shots came in the restricted area

The Grizz offense hummed whenever Jackson stepped foot on the court, to the tune of 5.8 more points per 100 possessions, which was also in the 90th percentile league-wide (they were the exact same on defense when he played)
The reason he makes this list isn't for any of the above though; it's the potential playmaking he offers from either forward spot on the floor: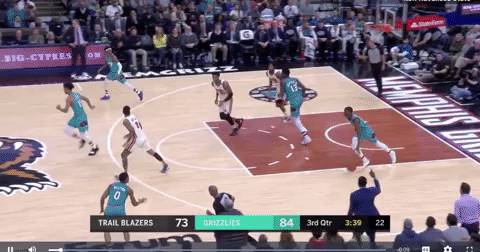 There aren't many fours in the NBA who can bring the ball up the court and then make that pass.
Ditto for the number of bigs who can hit a cutter on a dime:
Jackson is far from perfect. The three ball still hasn't come around (32 percent over his last two seasons) and without that shot, his value can only get so high.
But then again, if he had already shown the ability to drain it from the outside, the market for his services this offseason would be in a different stratosphere for the guy taken one spot after Jayson Tatum just three years ago.
One last concern: although Jackson has spent a ton of time at the four over the last two seasons, the numbers on both ends of the court indicate he's undoubtedly better at the three: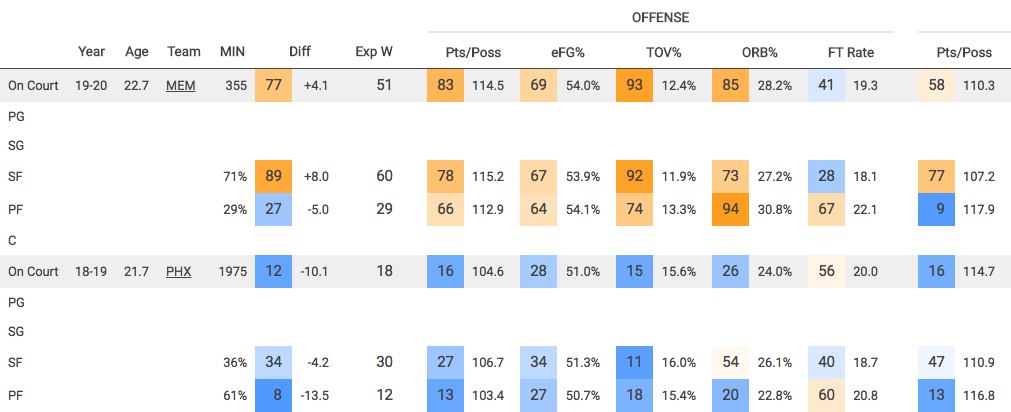 And hey, that's fine! New York needs help everywhere. But given their dire need for shooting, signing Jackson to occupy one of the wing spots would make it all the more necessary for them to sign an elite stretch four elsewhere in free agency.
2. Derrick Jones Jr. (23 - unrestricted)
I just love this dude.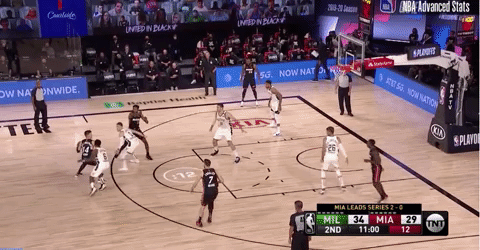 Jones Jr. is anything but perfect. He's not a threat from deep - just 28 percent for his career on low volume. Based on that (and the fact that he's not a playmaker), I'm absolutely cheating by putting him on this list, let alone so high. But what can I say…when Jones does good stuff, it's impossible not to take notice.
Case in point: DJJ had only two 2-point field goals in the Heat's first round series against Indiana as Miami shortened their rotation and he was squeezed out. Here was the first:
…and here was the second: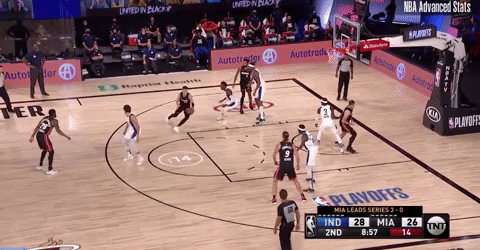 When he's out there, he tends to pop, as he did while guarding Jayson Tatum on the last possession of regulation last night.
If there were ever a guy I'd feel comfortable giving more years at less annual dollars and bet that New York's shiny new development staff can help continue to teach him the finer points of the game of basketball, it's Derrick Jones Jr. His shot chart is already what you want…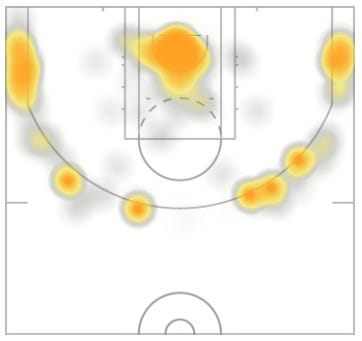 …and he moves really well without the ball, so even though he's not a playmaker per se, he does contribute to plays getting made in a big way. Lastly, like Josh Jackson, while there's a temptation to play him at the three or the four, the numbers seem to indicate the move is to put him at the two and make sure you load up on shooting at the other positions: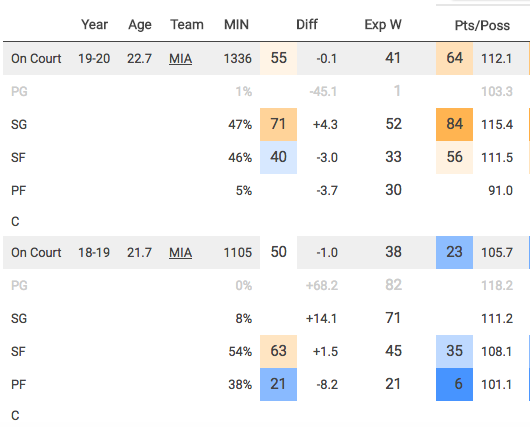 If and when the Knicks get really good, maybe he's not a part of that rotation, but that day might be a while from now. He's absolutely someone who can get them there, and he won't cost a lot. Makes sense to me.
1. Jerami Grant (26 - $9.1 million player option)
At this point, it's probably wishful thinking to imagine Denver lets him get away. He's become a massive part of what they do at both ends of the floor, and with both Paul Millsap and Mason Plumlee coming off the books, the Nuggets can give Grant a nice raise over the $9 million he's been making annually.
And he absolutely deserves it. "Can guard all five positions" gets tossed around a lot, but Jerami Grant is one of the few it actually applies to. Toss in the 39 percent from deep over the last two seasons, and there's really not much to dislike.
And maybe he stays. The role is perfectly suited for him, and if the Knicks ever signed him for what he'd likely cost - I'm betting three years and north of $40 million - the expectations would be heightened.
I'd make the bet that he'd handle it just fine. Other than a shot creator, Grant is exactly what New York needs at both end of the floor. More than Gallinari (who simply isn't in the same league as Grant defensively) Jerami would be a compliment to Mitch that could bring their defense into a new stratosphere.
He's an easy number one for this list, and among players who could be had for under $15 million annually, he'd be my top target if I were in Leon Rose's seat.
That's it for today! See everyone tomorrow for another banger. #BlackLivesMatter