How is COVID-19 affecting the Knicks?
Plus, the Top 10 salary dump candidates New York should consider this offseason
Couple of housekeeping matters before we get to our Friday Top Ten and then a very good piece of reporting from Jeremy Cohen, who interviewed NBA trainer Shawn Farmer about what NBA players are doing now that their usual training regiments have to be adjusted.
First, some (minor) news:
According to Marc Berman, some other (very smart) organizations are already thinking of prying away Damyean Dotson, who is about to be a restricted free agent.
Well, maybe "prying" is the wrong term. After Dot yet again lost his spot in the rotation for who the shit knows why, one would think he'll be more available than a sailor during fleet week. As I wrote extensively about a few months ago, one of the biggest errors the Knicks organization has made over the years has been a failure to foster continuity within the roster. I'd love nothing wrong for them to prove me wrong here and match the inevitable offer sheet that's coming.
Another tidbit comes from a plugged-in NBA source who that told me one plan being bandied about within the league right now is a schedule which would see Summer League cancelled, the draft held in September, and next season start in November or December. Sign me up.
Finally, top-ten draft prospect Obi Toppin signed with CAA. Welcome to New York, Obi.
OK, on to today's Top Ten!
A few people have asked me about possible onerous contracts the Knicks could take on this summer in exchange for future picks (or possibly a young player). I figured I'd rank them.
A precursor: Before the world went to hell, next year's salary cap was slated to be $115 million, with the luxury tax line set to be $139 mil. If the cap gets lowered - which it will, the only question is by how much - I doubt it'll alter that much. As you may have heard, this summer's free agent class is booty.
The tax line is a different story. Many teams were loath to step foot above the tax line as it was, and with owners faced with the pain of an economy which could seep into a recession any day now, it's easy to see certain teams wanting to unload money, especially if ticket sales take the hit we all know is coming.
Here are what the top payrolls for next year look like as of now, courtesy of HoopsHype.com (which doesn't always take options and things of that sort into account, but these are roughly accurate):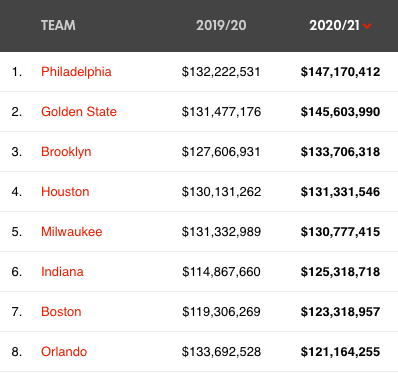 Enter the Knicks, who have plenty of salaries that are only guaranteed for $1 million next season and could offer instant savings to teams in need thanks to guarantee dates that come before free agency is slated to begin.
With that as the backdrop, here are my Top Ten Salaries I think teams would like to dump and actually have a prayer of being moved (i.e., no John Wall). I've also written what the Knicks interest level should be in each:
Honorable Mention: Buddy Hield, 4 years, $94 million - to be clear, no, I don't think Sacramento would try to salary dump Hield. But things seemed to be going sideways in Sac-Town at times this year, and they already had a bottom-ten attendance in a state that will likely be hit very hard by this pandemic. Maybe they're more willing now than they otherwise would have been to pick up the phone.
Ideal Knicks Interest Level: Low to Moderate. Hield's an elite floor-spacer, but that's his only elite (or near elite) skill, and it's one that you can find 85 or 90% of with a well-used late first round draft pick for a tenth of the cost. I kind of have a rule against spending $20 million a year on someone who can't be an offensive engine or legit DPOY candidate. That said, if the price was low enough…I'd listen.
10. Nicolas Batum, Hornets - 1 season, $27.1 million player option he will 1000% pick up - Hornets aren't in a financial crunch, so it's not like they'll pay a premium to offload this deal, but…
Ideal Knicks Interest Level: Moderate. Julius Randle and Bobby Portis for Batum and Malik Monk…who says no?
9. James Johnson, Wolves - 1 season, $16 million - Maybe Minny tries to make a run at Fred VanVleet this summer, in which case moving Johnson's salary might make that a lot easier depending on how far the cap drops.
Ideal Knicks Interest Level: Moderate to High. The Wolves own the Nets' first round pick in this year's draft as well as their own second rounder. Who knows where their first and NY's first will land in relation to each other. Point is, they could probably make something happen.
8. Cory Joseph, Kings - 2 years, $25 million ( $15 million guaranteed) - Bogey is restricted and Fox may be a midnight max (or whatever time free agency kicks off), as he'll be eligible for an extension this summer. Joseph would seem to be expensive for the role he plays in Sacramento.
Ideal Knicks Interest Level: Moderate to High. God knows the Kings have made silly trades before in an effort to unload salary. They also own three second rounders this year, including Detroit's, which is currently slated to be 35th. As I wrote on Monday, the Knicks should be trying to get as many bites at the apple as they can find. With Joseph's small guarantee in 2021-22 ($2.5 million), it's worth it.
7. Thad Young, Bulls - 2 years, $27.7 million ($19.5 mil guaranteed) - I have no idea what Chicago wants to do, but their offseason looks about as good as the Knicks' does in retrospect. Young's game aged this season and he turns 32 in June.
Ideal Knicks Interest Level: Moderate to High. There's a million ways this could go, but if any of them involve getting Julius Randle off my team and Lauri Markkanen on it, even with some other goodies going out in the deal, sign me the hell up right now.
6. Jeremy Lamb, Pacers - 2 years, $21 million - was having an OK season before he tore his ACL in February. Indiana may wind up being dangerously close to a reduced tax line.
Ideal Knicks Interest Level: High. Lamb is an interesting player when healthy, but more importantly, the pipe dream of the summer of 2021 shouldn't prevent the Knicks from taking on $20 million in salary for the right price. Indiana can't trade a first-rounder until 2022, and I have a tough time they'd include one in a deal just to get rid of Lamb, but they do have the incredibly interesting Aaron Holiday. Perhaps something could be worked out.
5. Al-Farouq Aminu, Orlando - 2 years, $20 million - tore his meniscus late in the season when he already was getting squeezed out of the rotation. If Orlando has designs on keeping Evan Fournier, they could be motivated to move Aminu.
Ideal Knicks Interest Level: High. Aminu seems like a pro's pro, and the same logic that applies to Lamb should apply here. Orlando owns all its own picks moving forward. Maybe DSJ can be included to sweeten the pot.
4. Julius Rand- ah, fuck me…
4. Taurean Prince, Nets - 2 years, $15.2 million - ah ha! John Doe has the upper hand now, bitches!
Ideal Knicks Interest Level: High. Sure, his 3-point shooting cratered this year (down to 33 percent from nearly 39 the previous two seasons) but Prince is a useful player at the very least, and if you don't play him, it's not like he has the stature to be disruptive. Because of his connections to China, Joe Tsai might feel the brunt of the economic downturn as much as any NBA owner, and the Nets total salary next year might be above a reduced tax line even without a new contract for Joe Harris. Prince also lost his starting job late in the season. If Brooklyn was willing to pony up a future first? What the hell.
3. Terry Rozier, Hornets - 2 years, $36.8 million: I forget if it was reported or I just heard it through the grapevine, but if the Knicks shipped Randle to Charlotte at the deadline, Scary Terry was coming back in the deal.
Ideal Knicks Interest Level: Low. If the answer is "5000 minutes of Terry Rozier at point guard over the next two seasons," you're asking the wrong question. There's a reason the Hornets were willing/desperate to move him half a year into a brand new deal.
2. Al Horford, Sixers - 3 years, $80.5 million ($68.5 million guaranteed): It just hasn't worked in Philly. I can't imagine the Sixers would pay any kind of a premium to dump the contract, because they're so capped out that getting off this money wouldn't get them any additional spending power anyway, but if a team were willing to take it off their hands for nothing?
Ideal Knicks Interest Level: Low. If he wasn't two months away from his 34th birthday, you could probably talk me into a bounce back coming down the pike. But for as great as his presence would be both on and off the court, it's just too high a price to pay for a contract that may already be considered an albatross.
1. Eric Gordon, Rockets - 4 years, $75 million: He's 31 and his 3-point percentage dipped to 31 percent this season. He's arguably no longer part of the Rockets best 5-man grouping.
Ideal Knicks Interest Level: Low. Even if the Rockets had any draft picks or interesting young players to trade away (they don't), this might be the worst contract in the league. It's a bridge too far, even for a team that should be thinking much longer term than July, 2021. The Rockets are likely stuck with Gordon until they're allowed to trade away another future pick.
Now here's a special interview from Jeremy Cohen about how Covid-19 is affecting today's NBA players…
---
How might COVID-19 affect the Knicks?
I had the opportunity to speak with longtime NBA trainer and former professional basketball player, Shawn Farmer. Shawn weighed in on how the NBA's indefinite suspension from COVID-19 could affect player development, what it means for the 2020 Draft, and how the Knicks' young players might be impacted.
How would you say the current stoppage of play compares to the lockouts in the 1998-99 and 2011-12 seasons?
I would say it is very, very similar but the only difference is that there are guys who think that this is a much needed rest. They're looking forward to the season resuming but are eager to rest up. Whereas with the lockout years, there was so much uncertainty [that the season would even start].
As ESPN reported, players are unable to use team facilities or work out at any non-team practice or training facilities. Teams are allowed to provide workout materials for players to use at home if they would like. For the young players who choose to work on their game while in social isolation, how could this hiatus help them?
When you run up and down the court like that for a long period of time, rest helps. Resting your body, resting your mind – it will serve as a much needed break. Who wouldn't want to get a break at this time of the year, after you've played around 67 games? Mentally for the most part but definitely physically, [rest] helps in a lot of ways. And then you have to add the piece of being with your family. There are just so many ways that it helps, just in my experience from talking with players.
Development is obviously a loaded word. How much does this stoppage impact players in terms of the long run? Or do you believe it doesn't affect them at all?
I want to use the word "tremendously" but it's cliché-ish. It helps immensely, to the 10th degree. You talk about skill development – it's not hurting them because guys are finding ways to do things differently. I was just talking with a guy who plays with the Miami Heat the other day and he was like "Man, I didn't know I could come up with so many different ways to stay in shape!" It helps you become innovative, for sure. But I have heard of at least one guy who's allegedly playing pickup.
What would you say is a more important factor for players – this "off-season" where they get rest, or playing in games and gaining experience?
That's a really good question. I would say, because I'm a trainer, that you can always be improving when you're not playing. I don't believe in a lot of playing. I believe in a lot of skill work and really coming back better than you were the year before. I'm a Kobe Bryant fan, I'm a Michael Jordan fan – I live and I train like that. I don't believe in a lot of pickup games, I believe in you prepping for the upcoming season. So I would lean heavily towards development [outside of games].
The NCAA is reportedly mulling an additional year of eligibility for winter/spring athletes. We've seen players get drafted because of March tournaments. How do you think COVID-19 could affect the draft? Do you see players being more or less likely to return to school?
I think players are less likely to return to school. I still think kids are gonna [declare]. I [train] a kid at Louisville and he's a rising sophomore, and they had the number one junior college player in the country, Jay Scrubb. [Scrubb] is declaring for the draft and he's not on any draft boards! So is this a thing now? Irregardless of what happens, these guys are going to continue to feel that they can compete and get drafted even though there's only 60 spots. They still think somehow, "I can make it."
Everybody's in limbo right now though. Kids don't know what to do. "Should I start my workout?" "Should I sign with an agent?" I think the NBA should come out and make a statement in reference to the draft so kids and parents won't be in limbo.
We began seeing some strides from RJ Barrett, Mitchell Robinson, Frank Ntilikina, and Kevin Knox at times over the last few games of the season. How can they pick up where they left off after this interruption and further elevate their games?
Right now, I think having this break, I would assume that they're watching film of themselves. I think they can come back and really, individually, do some things or try to implement some things they didn't do over the first 66 games going into the off-season. From an individual basis, they can come back and implement some things that they could have done but didn't see themselves doing. They can come back and do it with the remaining games left.
One issue is them simply not being strong enough because they're all 21 or younger. This feels like a great time, not just to rest their bodies as you're saying, but to build more muscle and get big.
I'm on the same sheet of music with you with that. I do believe that Mitch can bulk up. This is his second year. My question to Mitch, as opposed to RJ because he's coming out of college and he hasn't really had an off-season yet, is "What are you doing in the off-season?" Mitch has to get stronger. Even though he's freakish athletically, it's a grown man's game. So Mitch, for sure.
RJ, yes, that has to be a focal point. He can stand to get a little bit bigger. I think RJ has skinny legs. I don't like his quads and his glutes. I think that's where a lot of players neglect. They build their upper body up – triceps, biceps – but to be able to really guard and to guard in the post in the NBA, you've really gotta have that lower body really, really strong. And I'm not talking about sumo wrestling type legs. Overall, he can stand to put on about 10 pounds of muscle. Anywhere between 10 to 15 pounds would not hurt RJ because of his height. It's got to be a focal point.
I work with Dennis Smith Jr. and that's one thing I love about Dennis. He didn't mind lifting on his legs – squats, dead lifts, low weights but high reps. People talk about how gifted he is as a jumper but Junior works on that stuff. He can guard people in the post. You don't see Junior getting bullied in the post.
I'm glad you brought Dennis up. I know you two are close, and I wanted to ask you about how he's doing after his concussion?
He's home. I haven't talked to him since he's been home but his dad and I have talked. He's doing great. I'm gonna actually go down there today and I'll see him for the first time. Junior's really focused on getting back, getting healthy, and seeing how he can contribute and be a focal point going forward.
Hopefully with the new regime with Leon Rose, things improve. He being who he was in the sports agent business, he's a highly competitive guy. He's low key. I think he has a vision. I don't know if Junior's part of that plan but I know this will be a huge off-season for him and I know he's not going to sit around and allow himself to sink back down to that level. That's the type of kid he is.