Keeping Your Options Open
As the Knicks assess their (many) options in the NBA draft, one place they should consider looking is down.
News & Notes
Slow news weekend where the Knicks are concerned…
KP missed Sunday's game with right knee soreness (shocker). It didn't matter though, as Luka Doncic put up a stat line that had literally never been done before in NBA history and the Mavs beat the Clips on his game-winner in OT as time expired. Decent talent, that guy.

The Sixers (more on them in a bit) and the Nets (no more on them, because nobody cares) both got eliminated from the playoffs.

Toronto's Nick Nurse won the NBA's Coach of the Year award, making him the second Raptors coach in three years to do so. Unlike the last recipient, he'll probably get to keep his job.
Listen Up!
New Podcast from Jeremy and I, doing on early deep dive on the different possibilities that will be available to the Knicks on draft night. Available on all major podcast platforms.
Read This
Speaking of Jeremy, him and Drew wrote up a killer Fred VanVleet profile for the Strickland. Check it out.
Ask Macri
I'm going to combine all these - and the dozens of other replies I got about the Sixers - into two questions:
Will Philly actually blow it up?

Can New York benefit?
To answer the first question, unless Embiid or Simmons outright demands a trade, the answer is probably no. All the usual articles have already dropped about how Brett Brown lost the locker room, didn't hold players accountable, made questionable decisions, etc, etc…all the stuff that generally proceeds a firing, which Woj has all but said will happen.
No, Embiid wasn't exactly steadfast after the game about his burning desire to remain a Sixer, but that's to be expected when the season ends this way, and with Embiid having the personality that he does. With a new coach, the front office will likely give the Embiid / Simmons combo a chance to figure it out.
As for Horford and/or Harris, it's almost impossible to predict that Philly will pay a massive premium to salary dump either one for the simple reason that it doesn't open up any cognizable cap space for them, and there's no indication (yet) that their owners are hurt for cash. If they try to trade either, you'd figure a premium will be paid to get a player back in the deal who can help them win right now.
That leaves the Knicks at a disadvantage, as the last thing Philly needs is Julius Randle to further clog their spacing. The notion that they're going to give a bunch of future picks and/or Matisse Thybulle to swap Horford for Randle seems to be a bit of a stretch.
Even if Philly was up for it, from a Knicks perspective, they'd have to be willing to stomach the remaining three years and $81 million on Horford's contract. I doubt there's enough picks in Philly's coffers to convince Leon Rose to swallow that pill. Also, for Horford to be an effective player, he needs to have the ball in his hands as a playmaker on offense, surrounded by shooting, and not chasing around wings on the other end. In short, he's no better fit next to Mitch and RJ than he was against JoJo and Ben.
As for Harris, if he was signed to $20 or even $25 million for the next two or three years, I could probably talk myself into something if Philly was willing to give up a lot. But four years and nearly $150 million? No chance.
Maximizing Your Assets
One issue I've been having with my daughter over the last several months is her increased reluctance to sit down and and let me read her a book.
(I suppose this is what happens as kids get older and discover the wonders of electronic devices and/or hard drugs? Thankfully my wife and I only have to worry about one of these right now, as we don't allow her to go anywhere near our iPhones)
Anyway, she is nearing four years old and I know how important early literacy exposure is to kids her age, so I'm positively desperate to get her to in front of even a couple books per day. Worse yet, she knows I'm desperate, so she's been milking me for whatever I'm worth: you give me an ice pop, I'll give you the time it takes me to eat that ice pop for you to read to me.
You can imagine her delight as she licks away, all the while never realizing that I, I am the true victor of this battle of wits. That's because her ice pops - the ones she thinks are some forbidden treats - are made from low-sugar apple juice. She could have a half dozen a day and I'd be totally fine with it.
Macri: 1
Daughter: 0
Still, she gets what she wants, I get what I want, so really, everybody wins.
Which brings us to the 2020 NBA draft, where every GM in the league will be looking to foist their low-calorie, somewhat bland apple juice ice pops onto some unsuspecting toddler who doesn't know any better.
In case you're just now paying attention to this draft class, here are some of the things that have been said about it:
"This is an underwhelming draft at the top" - one NBA exec to Stadium's Jeff Goodman

"The draft is often an eye of the beholder event, but this year particularly, parsing through which of the upperclass point guards or younger big men you like will genuinely be all about a team-by-team preference. Values across the board in the 20-45 section are as tight as I can remember." - The Athletic's Sam Vecenie

Here's Bleacher Report's Jonathan Wasserman on the lay of the land:

"I would say from the 15 pick to the 30 pick, you could probably have 40 guys that you're looking at, maybe more … and it's who you like in that particular range that is going to dictate whether or not you take them. There could be players taken in the late teens and early 20's that other teams may have on their draft board at 35 and 40."
That last quote is from Walt Perrin.
Yes, the same Walt Perrin who is likely going to have the biggest voice in the room on draft night as the Knicks' new assistant general manager for college scouting.
He said this back in April when he was still working for the Jazz, but there's no reason to think his opinion has changed much. Remember, NBA front offices are scouting all year long. After a certain point, their opinions are somewhat locked (well, unless you're the last Knicks regime and you witness a really super-duper workout). This goes doubly so for this year, where there's not going to be a draft combine and in-person interviews and/or workouts may be limited or off-limits altogether.
Taking all of this into consideration, we can draw a couple of conclusions for the Knicks:
The price for them to trade up may not be as high as it usually would be.

What's "not high"? No idea, honestly. Nor do I know if the Knicks have any interest in making a play for LaMelo Ball, their presumed target for months. My guess is that they'll have a set offer to move up and won't exceed it. Maybe they offer the rest of their draft. That won't move the needle for Minnesota, who has two other selections in the top 33, or Golden State, who is seeking win-now talent. Charlotte also already owns the 32nd pick, plus a late second.

New York could offer the Dallas '21 first as well, which could theoretically be appealing to the Wolves (remember, they shipped off a top-three protected pick to Golden State in the D-Lo trade), but wouldn't come close to the price required for the top selection. Short of putting RJ Barrett on the table, the first pick is probably off the table.

Ditto for number two, unless New York wants to pony up Mitchell Robinson. As I wrote on Friday, even though such a deal has merit, I'd pass. I also think the notion of Golden State being motivated to salary-dump Andrew Wiggins is overblown. They're a sound organization who I'm sure is confident they can rehabilitate his value to the point where he's at least close to a net neutral asset. This isn't Al Horford we're talking about here.

As for Charlotte - should Ball even fall that far, which he might if the Warriors can't find a taker for the pick and just go with Wiseman - maybe there's a larger deal there to be had, but the more I think about it, the less likely I think the Knicks will be willing to pay the price. That doesn't mean, of course, that these two teams can't do business. More on that in a future newsletter.

Anyway, the other conclusion we can draw about New York's drafting interest…

Their willingness to trade down - but not too far down - may be high.
How far down is too far down? Vecenie vaguely pegs a top 20; Perrin a top 15. So something in that range. Oh, and wouldn't you know it, Marc Berman had this to say the day after the lottery:
According to a source, the Knicks are confident they will get a solid prospect with the No. 8 pick — even if they drop back a shade to collect another asset in a trade.
Add it all up, and it's safe to assume the Knicks will at least keep the phone lines open for teams looking to jump up into the eighth spot. Which teams? Well, considering where the drop off is likely to be in this draft, these are the four I'd have my eye on:
Phoenix
Sacramento

New Orleans

Boston

Orlando
All this week, I'll be going through each of these, specifying what trade (or trades) I could see making sense, whether each team is likely to pull the trigger, and finally, whether I'd do the deal.
Let's start from the top…
Phoenix Suns - 10th pick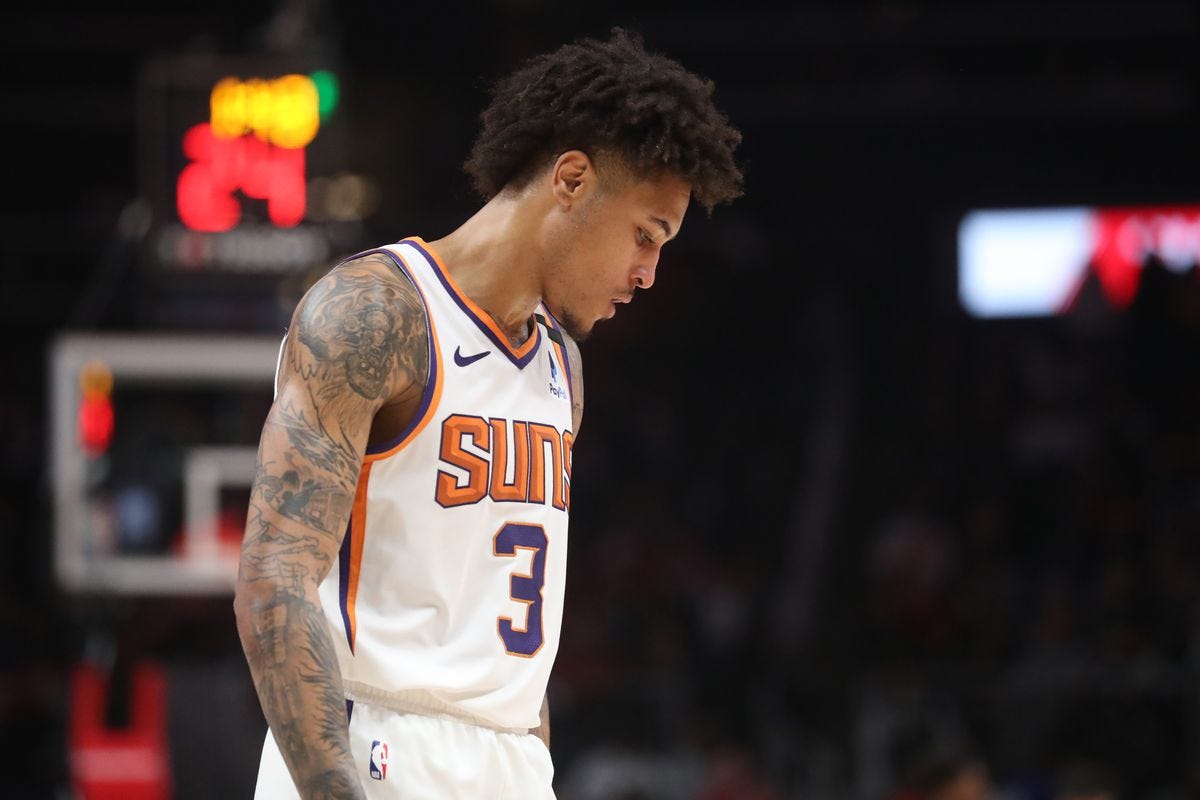 Proposed trade: 8th pick & Reggie Bullock for the 10th pick & Kelly Oubre Jr.
I gotta say, I thought of this one on Saturday morning and haven't been able to stop thinking about it since.
Phoenix found its groove in the bubble, and whatever got into them, we know what didn't: Kelly Oubre Jr. Oubre tore his meniscus earlier in the season and then underwent arthroscopic knee surgery. While there was some thinking that he could have played in Orlando, he instead opted to sit out.
In his place, Phoenix turned to rookie Cam Johnson, a superior 3-point shooter who makes more sense with the Suns starters, three of whom offer far more value on-ball than off-ball. While Oubre Jr. is a smart cutter and not as strong of an outside threat, he definitely fancies himself as a guy who should have the rock in his hands. He's also entering a contract season, and likely doesn't want to spend his walk year coming off the bench.
The last thing the Knicks need is an inefficient secondary or tertiary creator who fancies himself as a first option, but beggars also can't be choosers, and KOJ, while not perfect, would be an instant upgrade to what they have right now. Courtesy of Cleaning the Glass:

It's nothing incredible, but Oubre's efficiency is more than serviceable considering his usage. In New York, he'd be playing off of RJ Barrett, who is a far, far cry from Devin Booker and Bradley Beal, but even if Barrett's presence as the lead dog does Oubre no favors, Oubre's presence will certainly be a boon to Barrett. If New York can finagle itself a competent starting point guard who can shoot a little bit, I could see it working.
(I could write that sentence after literally any batshit crazy idea, basketball-related or otherwise, and it would make sense. "I was going to deep fry some kumquats in goose fat tonight for dinner, and while I've never tried that before, if New York can finagle itself a competent starting point guard who can shoot a little bit, I could see it working")
No, Oubre's not perfect - see the paltry assist numbers, and aforementioned 35.2 percent from deep - but he offers positional versatility at both ends, and the Suns may have unlocked something by using Kelly at the four (they were a +2.4 during nearly 1500 possessions this season going small).
Would Phoenix do it?
That depends on if there was someone they felt they needed to leapfrog Washington to nab. Both of those teams are in need of a long term answer at the point guard position, so it's conceivable that they think a jump of two spots is worth it.
There's also a possibility that they simply don't want to upset what was a beautiful apple cart in Orlando, and at least by trading Oubre Jr. now, they won't be losing him for nothing in a year. Bullock would also give them another plus shooter and decent defender, and offloading Oubre's money gives the Suns a better chance to make a free agent splash this offseason, albeit in a down market.
We know Phoenix shopped KOJ at the deadline, so this would be anything but out of the blue.
Would New York do it?
Speaking of teams in need of a long term answer at point guard…
This trade would be a signal that the Knicks aren't enamored with any of the point guard prospects available to them at eight (or, I suppose, would be so convinced that their choice of PG would still be available even after the Suns and Wizards pick, but that seems like an awfully dangerous game to play).
More likely, this would be a sign that they were indeed set on taking Devin Vassell, and were convinced that with both Phoenix and Washington somewhat set at the wings, he'd fall the two spots to them at 10.
The bigger question would be whether one year of Oubre would be worth the risk. On one hand, giving Thibs a versatile wing defender and someone else who could sop up some of the offensive load, even for just 82 games, might be worth it. It's also a chance to audition a guy who won't turn 25 until December.
On the other hand, we know Oubre's market value matters to him, and giving a large role to a contract-year player who already has a tendency to not be the most willing passer might not be the best idea (see: the 2019-20 New York Knickerbockers). He recently switched agents to Torrel Harris, rep and father of $180 million man Tobias Harris. If Oubre Jr. balls out this year, he won't come cheap next summer, and his cap hold of $18.7 million is not exactly convenient.
So really, for as good as this might look on paper and be sensible in theory, it'd be a roll of the dice in more ways than one.
Would I Make the Trade?
For me this would come down to who was available at eight. Assuming Killian Hayes is off the board (as well as the other likely suspects), I'd probably pull the trigger. That's especially true if what Jonathan Wasserman noted about Kira Lewis' draft stock is true:
"Some think Alabama's Kira Lewis Jr. is going top 20; others have him 25-35. Believers buy his improvement and speed, while doubters have questioned his feel for the game"
If Lewis slips, New York could conceivably package both of their later picks and maybe Detroit's 2021 second-rounder to move up and grab him (or possibly even hope he falls to 27, although for the life of me I can't fathom he comes anywhere close to that, and still think he winds up going much higher, but what do I know).
Coming out of this draft with Oubre Jr., Vassell and Lewis would have to be considered a rousing success for the Knicks, who would still be left with more than enough cap room to sign whatever point guard they want, whether it be Fred VanVleet, Goran Dragic, D.J. Augustin or whomever. Add that group to the existing core and you could have yourself a semi-competent basketball team that should still lose enough games to be in the running for a top pick next year (you know, when our lotto luck finally, inevitably turns):
Starters: Augustin, Barrett, Oubre Jr, Randle, Robinson
Backups: Kira, Ntilikina, Vassell, Knox, Gibson (waived and then re-signed)
In the end, Oubre might represent the easiest way to get a tad bit of shot-creation on a roster that needs it as desperately as any in the league. And if it goes poorly, he's an expiring contract who can be benched or flipped at the deadline.
So sure, unless there's a better option on the table, I'd pull the trigger if I could. Will there be a better option? Check back the rest of this week, and over the next two months (is it October yet???) to find out.
That's it! See you with another edition very soon. #BlackLivesMatter