Lending a Helping Hand
The Knicks are always linked to trades for big names, but what if for once, they helped another team get a star (and still benefited in the process)?
News & Notes
LaMelo Ball says he has spoken only with the Knicks and Warriors via Zoom. He also signed with Puma. In possibly related news, Ian Begley reported yesterday that other teams believed the Knicks were looking into trading for a top pick, but also noted that "teams make calls every day to each other to gauge interest in potential deals," and that a lot of news shared during draft season is done to benefit the self-interest of the sharer. A good thing to keep in mind.

Other draft-related notes:

Jonathan Wasserman of Bleacher report said on Knicks Fan TV that he suspects the Knicks would take Tyrese Haliburton over Killian Hayes if they had to choose between the two, simply based on the league-wide perception of the two players that he's been able to gain.

According to Ian Begley, the Suns had a second Zoom interview with Kira Lewis earlier this week. They hold the 10th pick in the draft.

According to the Ringer's Kevin O'Connor, executives around the league continue to believe the Wolves are looking to either trade down or trade out off the first overall pick altogether. There's also a Hawks insider who claims to have a lot of info where Minnesota stands on several trade fronts. Feel free to peruse this thoughts.
"Sources Say…"
I heard from someone with knowledge of the league's decision-making process that there are several scenarios still on the table for next season, including a Christmas Day start, a March 1 tip-off, 72 total games, and even a "semi-bubble" scenario, which of course would need player approval.
One note: if the NBA did agree on a Christmas Day start to next season, it would need to be decided on relatively soon, probably by November 1, due to the time needed between seasons.
Tweet of the Day
Happy Anniversary
Two years ago today, the Knicks Film School website officially launched (I think my podcast was right around the same day, but I've since switched platforms and have never had time to copy over all the old episodes, so I can't say for sure).
Since then, a lot has changed- there's no more site, JB launched this newsletter, handed it off to me, and now runs a completely separate Knicks website, all while continuing to collaborate with Knick content creators because he is a living saint - but the spirit remains the same. Knicks Film School was built to provide a space for fans to find reliable and engaging content about the team they love, and I'd like to think that still holds true. We've also raised tens of thousands of dollars for great causes along the way, which was always something we prioritized and will continue to do so.
Of course, none of this happens without you. A community is only as strong as its members, and there is no greater community of fans in the world than Knick fans. We're tough, we support each other even when we disagree, and we stick it out through thick and thin. In other words, we're New Yorkers, whether we live in Manhattan, Munich or Melbourne.
So whether you were one of JB's first followers and were hooked by the defensive stylings of Ronald Baker, or have been with me since I was blogging for Sir Charles in Charge, or this is your first time ever checking out this newsletter, just know that I appreciate you for being aboard for the ride.
---
Lending a Helping Hand
Of all the scuttlebutt (drink!) I've heard this offseason, the thing I'm most convinced of is that Victor Oladipo is going to get moved.
I first wrote about the topic a month and a half ago, going through the reasons why New York would get involved and what they should think about giving up. Since then, I've heard nothing to make me believe Dipo is a safe bet to stay in Indiana, but I have heard that the talk of Leon Rose making a play for him may be overblown.
In other news, we just witnessed an NBA Finals between the two teams I'd jointly put in the poll position to acquire Oladipo this summer, not based on anything I've heard recently, but just because of common sense.
Why do I have the Lakers and Heat as the most likely suitors? A few reasons…
As a default, it's always safe to assume the best players will eventually try to defect to the most desirable markets, and they don't get any more desirable than LA and Miami. If either of them swung a deal for 'Dipo, they could do so having more confidence than almost any other team that he'd re-sign next summer, when he'll be an unrestricted free agent.

Hand in hand with that logic is the fact that any team dealing for Oladipo should be ready to milk the final year of his existing contract just in case he bolts. That means bad teams probably won't want to give up as much for his services.

With NBPA President Michelle Roberts' recent statements indicating that she expects the salary cap to settle somewhere close to its original projection of $115 million, it opens up additional possibilities for both the Lakers and Heat to make roster moves that they otherwise wouldn't have, which in turn makes a trade for Oladipo more likely (I'll explain this one in more detail in a bit).
So what the hell does any of this have to do with the Knicks?
Simple: While there's been conflicting reports over just how aggressively Leon Rose wants to improve the roster before tip-off next season, it's a foregone conclusion that he wants New York to become a better basketball team. There's many ways to accomplish this, most of which have been written about either in this space or by one of my esteemed colleagues in the media and blogosphere.
But one way I haven't seen explored in depth is how the Knicks could serve as the third team in a deal that would help another team land a star-level player, which is where we're going today.
First up: the Lakers.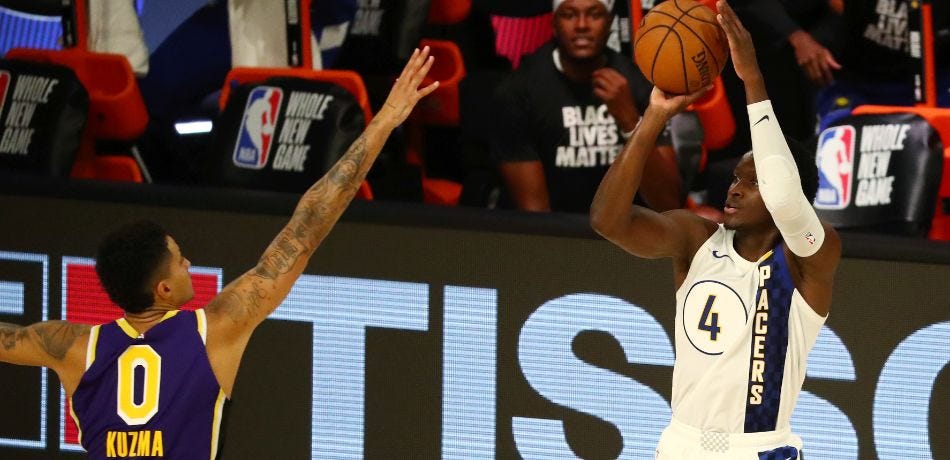 The Trade
Knicks Receive: Danny Green, Talen Horton-Tucker, 28th pick (from Lakers)
Lakers Receive: Victor Oladipo
Pacers Receive: Kyle Kuzma, Reggie Bullock and the 38th pick (from Knicks via Charlotte)
What's in in for…
The Knicks: They upgrade from the 38th to the 28th pick and get a vaguely interesting young player in exchange for taking on an overpaid-but-still-helpful-to-a-young-team-Danny Green. Having 27 and 28 gives them a nice back-to-back opportunity, or an easier path to trading up into the late teens or early 20's should one of Kira/Maxey/Terry/Cole fall.
The Lakers: They get their third guy to give themselves a chance against a stronger league next season that will feature a potentially revamped Warriors squad and probably a better Finals opponents than they faced this season. They also prevent an arch rival - Brooklyn or Miami, probably - from ending up with Oladipo themselves.
The Pacers: They get probably the best current player they're going to see in any possible Oladipo deal, and one with team control at that (Kuzma is a year away from restricted free agency). They also get a helpful, cost-efficient piece in Bullock and a top-40 pick in a draft that goes at least 40 picks deep with quality contributors.
Who Says No?
Maybe Indiana, if they prefer a two-team deal that would have them taking on Green themselves and getting the 28th pick instead of the 38th. Green may no longer be good enough to start for a contender, but he's still a strong two-way force, even if he is making more than he should.
I'm assuming they'd like to save a few bucks though, what with Pacers' owner Herb Simon's mall empire not doing so hot. There's also an expansion of this deal where the Knicks take on the remaining two years and $21 million of Jeremy Lamb's contract, which Mike Vorkunov and John Hollinger discussed recently for The Athletic.
Next up, Miami…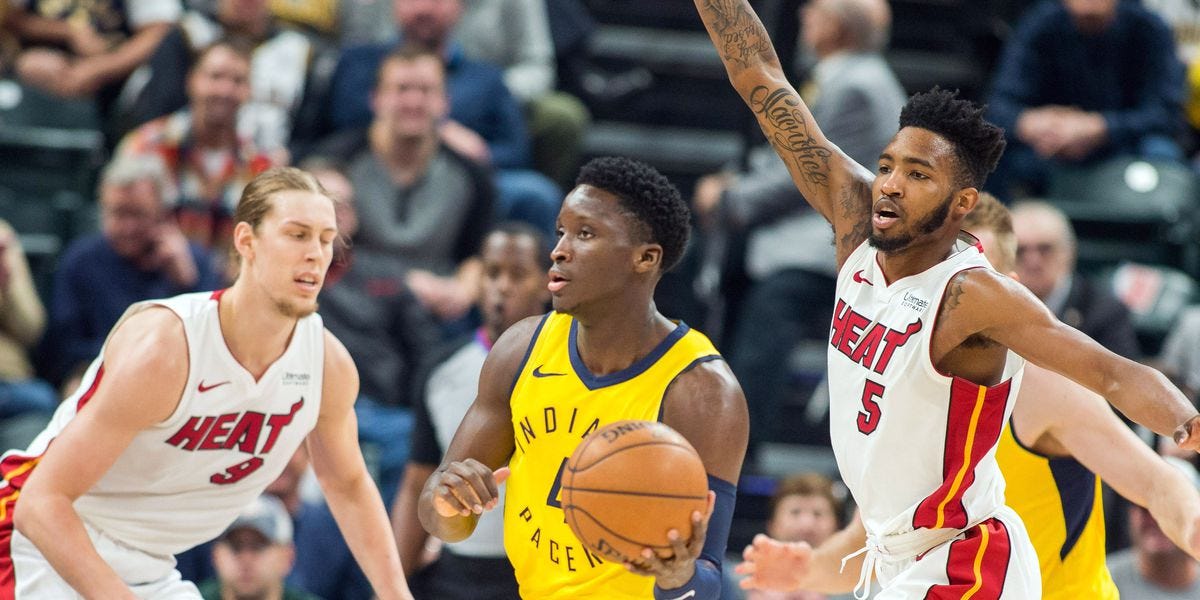 The Trade:
Knicks Receive: Kelly Olynyk, TJ Leaf, KZ Okpala
Heat Receive: Victor Oladipo
Pacers Receive: 20th pick*, Kendrick Nunn, Reggie Bullock
*Trade needs to be executed after the draft, as Miami has already dealt away their 2021 first and isn't allowed to trade consecutive future firsts due to the Stepien Rule.
What's in in for…
The Knicks: On the surface, not much, but let's look a little closer.
For one, Olynyk gives them one of the best floor-spacing fives in the NBA without taking three to five awful shots per game like some folks we know, and he's on a $13.6 million expiring contract. TJ Leaf is probably not an NBA rotation player, but there's a chance he's just been blocked by Turner and Sabonis in Indiana, and he's also in the last year of his deal before restricted free agency.
Okpala is the reason for the deal though. The Heat took him with the 32nd pick just a year ago, and as we knew from Duncan Robinson, just because someone doesn't see time in Eric Spolestra's rotation as a rookie doesn't mean they aren't a good player.
The Heat: Same deal as the Lakers: they get the third guy and prevent one of their rivals from accomplishing the same. Also, this gets them far enough under the cap that they can take on Oladipo and re-sign Goran Dragic to a fat one-year deal, plus bring back Jae Crowder on the full midlevel exception for one year.
The Pacers: While there's a chance Indiana can get a better pick than the 20th selection for Oladipo (more on that in a bit), there's little chance they could get a better pick and a young player with Nunn's upside.
Who Says No?
Again, Indiana, who might just be OK with taking on Olynyk themselves.
I'm assuming they really don't want to take up that much money on a player who is exclusively a five when they already have Sabonis and Turner on the roster. This also saves them $4.5 million they'd otherwise have to pay Leaf, and opens the door for Goga to get some time in year two.
New York also might shy away from this if they feel there's a better use of their cap space than taking on Olynyk.
Before we go, two bonus trades that are sure to ruin your entire day…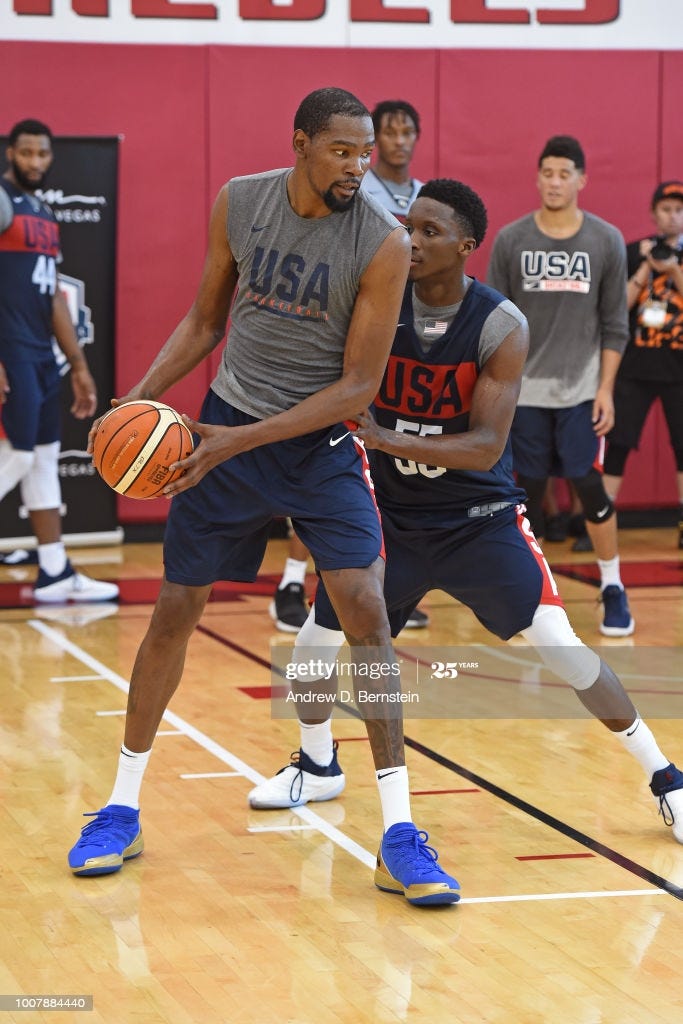 The Trade:
Knicks Receive: Taurean Prince, Brooklyn's 2021 1st rounder
Nets Receive: Victor Oladipo, Frank Ntilikina
Pacers Receive: 19th pick, Spencer Dinwiddie
What's in in for…
The Knicks: Another 2021 draft asset to add to the coffers.
The Nets: The third star, and a switchable defender who can finally slide into his natural role on a team.
The Pacers: A guy who might be better than Oladipo at this point, and a pretty good draft pick.
How many showers would I take after pulling off this deal?
Seven. This would arguably make Brooklyn the favorites in 2021. Shoot me now.
And it's not even the worst trade I thought up…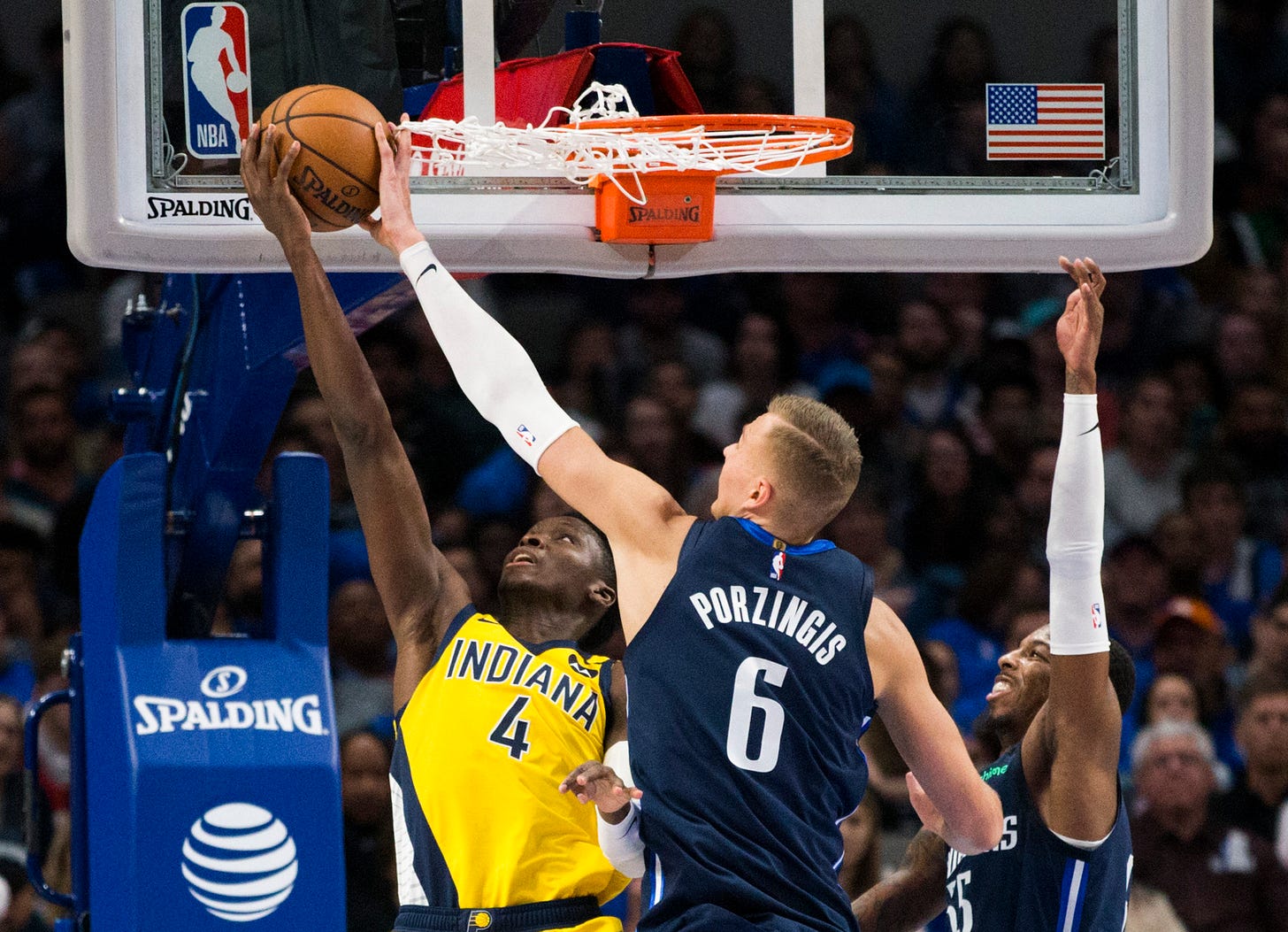 The Trade:
Knicks Receive: Tim Hardaway Jr, the 31st pick (from Dallas via Golden State), relinquished protections on the 2023 first, a top-10 protected 2025 first, and a formal apology for January's heist
Mavs Receive: Victor Oladipo, Frank Ntilikina
Pacers Receive: 18th pick, Seth Curry
What's in in for…
The Knicks: Another pretty good bite at the apple this year, plus an expiring guard who adds shooting and a bit of playmaking (cut to Steve Mills alternatively crying and laughing)
The Mavs: The third star and the guy KP thought should have been starting for New York all along.
The Pacers: A pick and maybe a top-five shooter in the NBA who is under contract for three more seasons at a fair number.
How many showers would I take after pulling off this deal?
After several days and many, many complaints from angry neighbors who say that there is no running water coming to their home, the Massapequa Water District would send a representative to my house for an inspection, as something clearly must be amiss.
In all seriousness though, I think out of principle alone, the Knicks would be hard pressed to do anything to help the Mavs out once again (I also think this is easily the worst of the four trades I came up with today).
But if you need a brightener for your day, just think about how much happier you are right now than you would be if this trade occurred. You can thank me later.
That's it! See everyone tomorrow. #BlackLivesMatter #VOTE